Once you have filled a region with stamps, please snap a photo of your filled out map and email the photo to arkansasbrewersguild@gmail.com – Put Claim My Prize in the subject line. You will get your choice of  Guild merch for each region completed.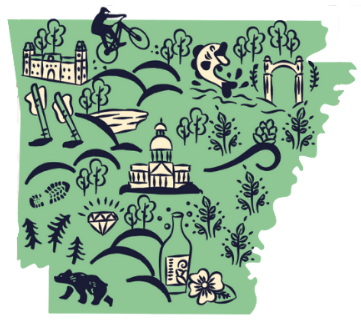 We are aware that a few of our breweries are still not open for sit down service or are temporarily closed for one reason or another. We will not hold that against you! 
Find a Passport
Passports are available at all member breweries in Arkansas. You can location a member brewery by visiting our locator map.
Passports are also available at Arkansas State Welcome Centers all over the state.  We'd call ahead to make sure they have them in stock!
You may also request a passport by mail by emailing arkansasbrewersguild@gmail.com Put I need a passport in the subject line and your full name and address in the body of the email.
How it works
It's as simple as it sounds. Take your passport with you to your local participating brewery. Get your beertender to stamp your passport. Fill a region, claim a prize. That's all there is to it! PROST!!
Our passport prize program has come to a close for 2021! Please continue to fill your passports and visit Arkansas' great breweries! We are working on the next passport, keep an eye on social media or visit this page regularly for an update in early 2022.